VIEW IN BROWSER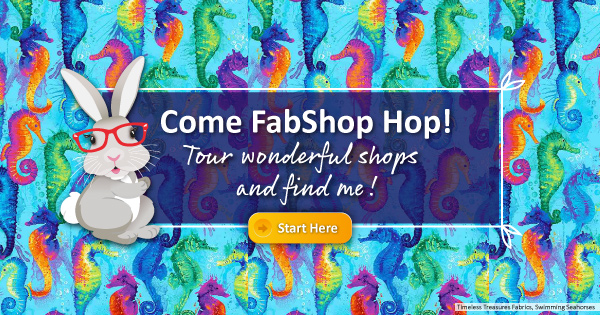 FEBRUARY FABSHOP HOP

Are you ready for some extra February Fun? Scroll down to find out more about our Bonus Giveaway!

~Bunny
FabSearch



FabSearch makes it easy to find information about products available online and in retail shops. There are three easy ways to search for the products and information you need.



Bonus Giveaway – Fat Quarter Bundle



Go to our Facebook Page: https://www.facebook.com/FabShopHop
Now - February 28, 2021

Find the post below then follow the instructions to enter to win!
Read carefully you must, COMMENT and TAG a friend on this post, PLUS SHARE the post with a quilting/sewing group on Facebook to qualify for the bonus giveaway.
LET'S STAY CONNECTED

Are we showing up in your Facebook news feed?

If you are noticing that FabShop Hop is not showing up in your Facebook feed follow these steps:

Go to the FabShop Hop Facebook Page and change your follow settings. (See the pictures below.)

Also, the more you like and interact with our posts, the more you will see.
Let's stay connected!






Follow Settings

Click on the three dots ... to the right of the "Liked" button. Then, select "Follow Settings".


Favorites

On the "Follow Settings" menu, select "Favorites". Then click on "Update" button in the bottom right.
DECEMBER 2020 PRIZE WINNERS


Grand Prize Winner:
Kim Lane - Grimes, IA

We are deeply grateful to our Grand Prize sponsor for donating:
Zappy Dots - Prize package that includes designer quilting notions, accessories, and apparel.
(retail value approx. $500)

First Place and Second Place Prize Winners:
Click below to find out if you're a winner!
Tour all the shops participating in the February FabShop Hop! At each site, search for the white bunny with the pink ombre and red background that says 'YouFoundIt!' February 1-28, 2021. When you find it; click on the image and complete the prize registration page - enter your email address and click the "register for prizes" button. You can go to the Members Area at https://www.fabshophop.com/mbr_signin.asp and then go to "View Visited Shops". This list of shops indicates where you have successfully located the 'YouFoundIt' bunny plus all of your bonus bunny finds.

[Please note: We have eliminated the email prize registration confirmations.]

Please continue shopping on that site or hop to the next one on the List of Shops.

You can also go to Member Area at https://www.fabshophop.com/mbr_signin.asp and view your registration, edit or update your registration, change your password and/or email address, and access your favorites' list.
February FABSHOP HOP PRIZES



Come FabShop Hop with us for a chance to win amazing prizes! We love our sponsors! Click on an image below to get hopping!


FREE PATTERN DOWNLOAD


Amazing Ocean Quilt
by: In The Beginning Fabrics