VIEW IN BROWSER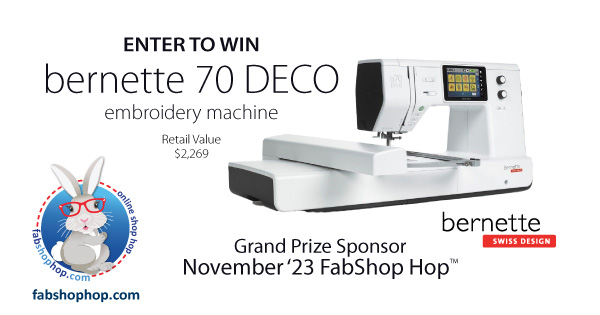 NOVEMBER FABSHOP HOP
It's time to FabShop Hop in November!

Find the November 2023 'You Found It!' bunny and complete the registration process at these participating shops for your chance to win a bernette 70 DECO computerized embroidery machine! Retail value $2,269!

Share with your friends! They will want to join in the FUN and enter to win too!
Tour all the shops participating in the November FabShop Hop! At each site, search for the white bunny with the purple and yellow background that says 'YouFoundIt!' November 1-30, 2023. When you find it; click on the image and complete the prize registration page - enter your email address and click the "register for prizes" button. You can go to the Members Area at https://fabshophop.com/mbr_signin.asp and then go to "View Visited Shops". This list of shops indicates where you have successfully located the 'YouFoundIt' bunny plus all of your bonus bunny finds.

Please continue shopping on that site or hop to the next one on the List of Shops.

You can also go to Member Area at https://fabshophop.com/mbr_signin.asp and view your registration, edit or update your registration, change your password and/or email address, and access your favorites' list.
NOVEMBER FABSHOP HOP PRIZES



Come FabShop Hop with us for a chance to win amazing prizes! We love our sponsors! Click on an image below to get hopping!


Grand Prize Sponsor



One lucky winner will get to take thier creativity to the next level with the bernette 70 DECO computerized embroidery machine! Read more about it this awesome Grand Prize here. Retail value of $2,269.00!


Embroidery Project



Check this out, embroidered place settings! This would be a fun project for the upcoming Thanksgiving holiday. Your guests will love them!

Be sure to pick up all of your supplies at the local independent fabric and quilt shops.
#shoplocal #supportyoulocalquiltshop


Photo credit: https://weallsew.com/embroidered-place-settings/
FREE PATTERN DOWNLOAD

But First Coffee Placemats
by: Benartex KANVAS
The Fabric Shop Network, Inc.


...the trade organization for independent quilt and fabric retailers.
Sponsor of the FabShop Hop
Send editorial questions about this eNewsletter to: info@fabshopnet.com
Send advertising questions about this eNewsletter to: - mandi.schulz@fabshopnet.com
© 2023 The Fabric Shop Network, Inc. All rights reserved. Brand names, trademarks, copyrights, and service marks of products of the participating shops and vendors are the property of those shops and vendors.